The Gothard Sisters Irish Music and Dance
Posted May 29th, 2018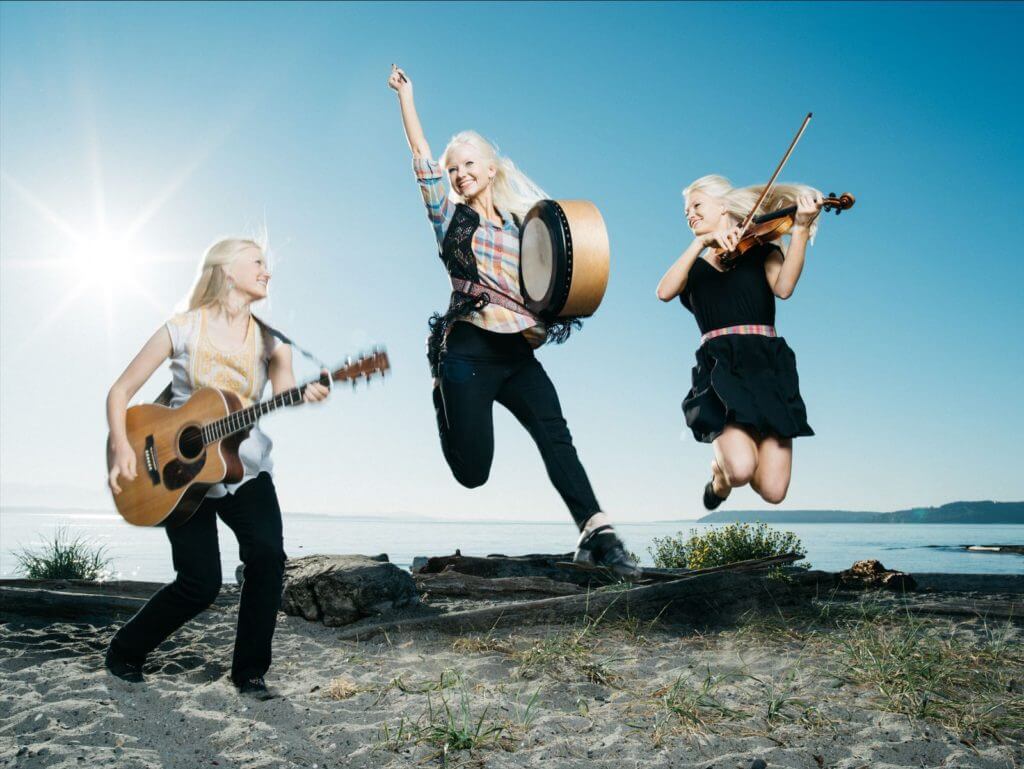 Coming up June 14 at 7 pm. Bangor Arts Exchange an exciting program of Irish American music and step dancing. If you've seen them before you know what a great show the Gothard Sisters put on. If you haven't, well here is your chance!
[ Buy Tickets ]
"The Gothard Sisters' grasp of style and presentation is big league, even when playing in more intimate settings. This is a trio that comes off like an orchestra."
– Celtic Beat Magazine.
The Gothard Sisters are a dynamic group of three sisters, whose impressive array of talents have set them apart as one of the most refreshing and compelling acts in Celtic-roots music today. The sisters' unpredictable and theatrical flair brings a youthful splash to the time-honored tradition of Celtic folk music, bridging the gap between classical, folk, Celtic, world and roots influences with a sunny, optimistic style that has been described as "beautifully arranged, melodic-minded Celtic folk-pop."
After ten years of playing together and a lifetime of getting to know one another, The Gothard Sisters' collaborative process and eclectic style has evolved into a jubilant live performance, full of entertaining sibling-banter, Irish step-dancing, foot-stomping tunes, lyrical melodies, storytelling, and a genuine lightness of heart that leaves audiences feeling refreshed and inspired.
Hailing from Edmonds, Washington – in 2006, The Gothard Sisters first began playing together as a violin trio busking for tips at the local farmer's market, working their way onto stages at local fairs and festivals. Audiences responded with enthusiasm, and over 1,000 performances later the band recently performed at the Millennium Stage at the Kennedy Center in Washington D.C., completed several national concert tours of the United States, and are well-known musicians on the national Celtic festival circuit. In December 2016 The Gothard Sisters charted on Billboard's World Music Chart with their latest Christmas album, Falling Snow, alongside notable Irish music phenomena Celtic Woman and Celtic Thunder.
When sisters Greta Gothard, Willow Gothard, and Solana Gothard use their musical talents together, the result is an irresistible mix of spritely violin and fiddle tones, pure sibling vocal harmonies, mandolin and pennywhistle accents, all supported by the powerful and exuberant rhythms of the Irish bodhran, African djembe, and acoustic guitar – creating what Irish Central calls "an earthiness that gives the songs a lively, approachable, down-home sound."
The sisters have produced two albums, Story Girl, Compass and Mountain Rose- and self-produced, filmed and edited a collection of music videos at beautiful outdoor locations across Washington's wild landscape, striking chords with hundreds of thousands of Youtube viewers. Since then their music has been featured on NPR's Thistle and Shamrock program and PBS's Woodsongs Old Time Radio Hour broadcast.
[ Buy Tickets ]